Beachwear 2021: innate elegance
A refined aesthetic defines the sharp lines and strong personality of the new beachwear collection. The design ranges from the basic one-piece swimsuit, to be used both at the sea and in the pool, to the magnetic one-shoulder with logo ring; evergreen as the triangle bikini, and the two-piece bandeau bra with brazilian briefs, they acquire a new identity thanks to unusual prints, games of crossings, bows and laces. Timeless models such as the classy one-piece swimsuit, with a deep V-neck, and the two-piece with high waist briefs and push-up, are reinterpreted in a contemporary key recalling the charm of Hollywood divas of the '50s and '60s.
The cuts and seams follow the sinuosity of the female silhouette, while the high-performing fabrics adhere perfectly to the body to ensure extreme comfort.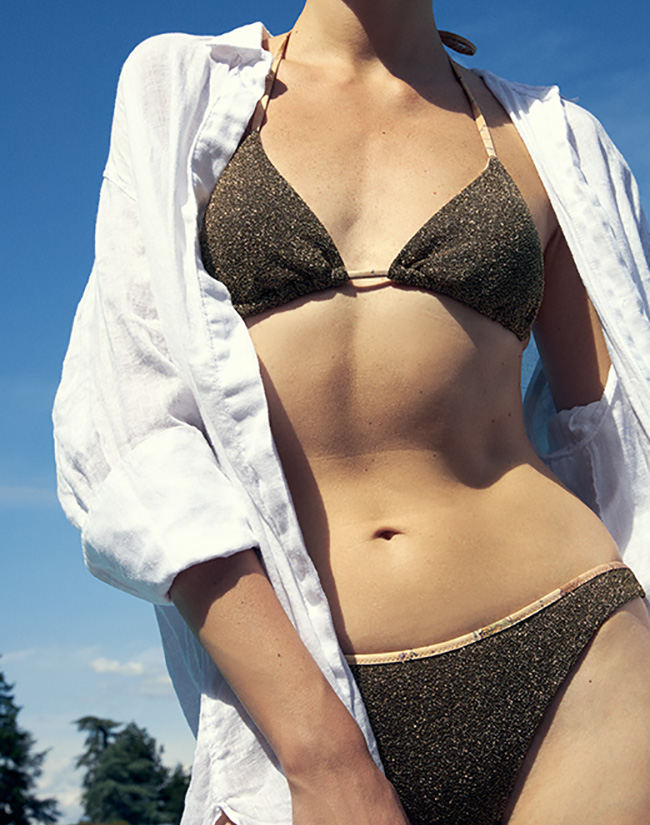 The color palette is dynamic: the neutral and elegant shades of white and black alternate with energetic and vibrant nuances such as coral red, cobalt blue and amethyst, passing through the yellow sun and military green, up to gold and turquoise. The prints are fresh and exclusive: to the inevitable Geo Classic are added the new color variants of Geo Color and modern prints Logomania.
Iconic details are used to emphasize the monochrome effect or to create sophisticated and unexpected contrasts. To the versatile swimwear are added the out-of-water, real must-have summer: soft jersey tank tops, precious beach robes, light skirts, delicate voile caftans and comfy shorts; garments ideal for the beach but also to wear in the city on hot summer days.
To complete the rich line, beach towels and accessories enhance the holiday outfits, to maintain a recognizable and trendy style even under the sunshade.